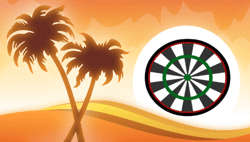 I stepped up toward the line, extended my hand and threw the dart forward. Wow, what an evening I had as I played darts with the guys. This was the first time I have ever played darts with my friends before, and while I lost, there's something to say about spending time with your friends. Those evenings after a long tiresome day or a those weekends to get away and do some things that are completely relaxing.
We were able to get away and do three fun things, but it really was not the things we did, so much as the time spent. We call evenings like these "guy time." Guy time is where we get away just to be with the guys and do nothing more than be ourselves. Sure we can be ourselves around others, but it just feels good to be around the guys and speak freely about whatever is on our minds. There is no judgement and nothing is off limits.
The older I get the more I notice these times are essential to developing a healthy work-life balance. Having times to relax with family, friends, or even yourself is key to becoming the best person you can be. We need time to let go and be ourselves. Organizational theory takes into mind these concepts of work-life balance. Study after study has been conducted stating the value of work-life balance to attribute to being fully satisfied in the workplace. Continually working or being engaged in tasks weighs on everyone. Stress must be released, so developing time to get away is crucial. I challenge each of you during this next week to set aside some uninterrupted blocks of time to relax with some close friends and achieve a better work-life balance.